Trailers
'Paint' Teaser Trailer | Moviefone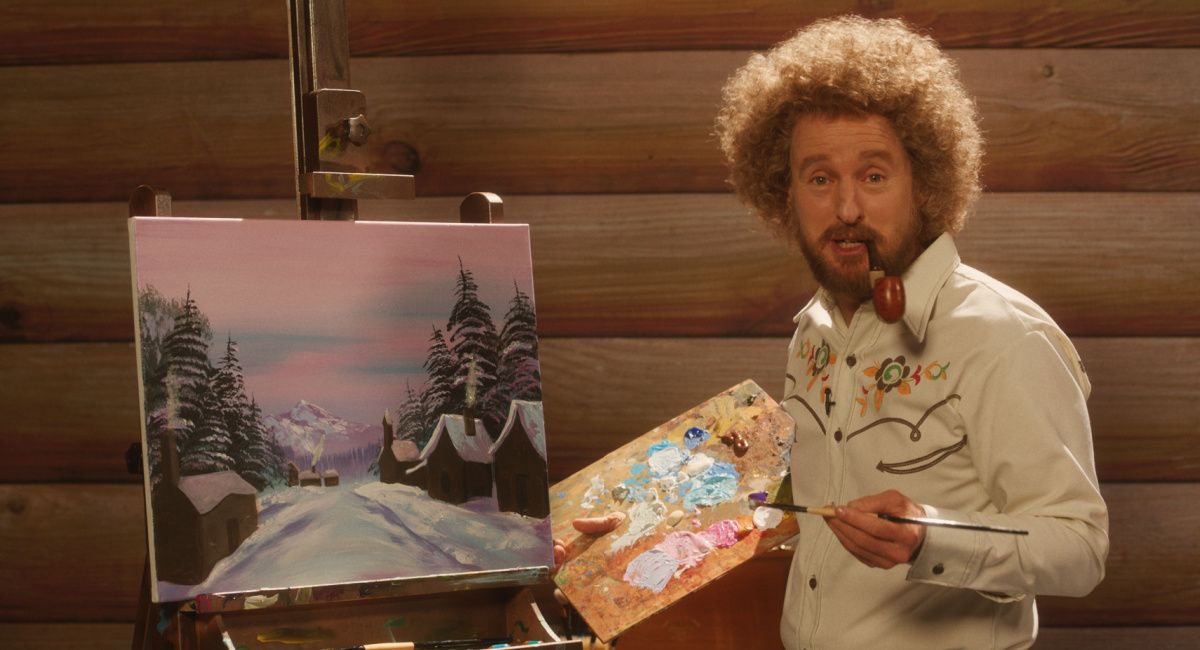 Owen Wilson has long exhibited a deft touch in locating the charisma and romantic appeal of slightly off-kilter, positive-minded characters. From the look of his next film — the comedy 'Paint,' whose first teaser trailer and poster debuted today — he's back in his wheelhouse.
The narrative feature debut of writer-director Brit McAdams, the movie stars Wilson as Carl Nargle, the longtime host of a popular PBS paint-along show. When the station finally hires a new painter, Ambrosia Long (Ciara Renée), it throws a huge monkey wrench into Carl's life.
Set to be released by IFC Films on April 7, the film also co-stars Michaela Watkins, Wendi McLendon-Covey, Stephen Root and Lucy Freyer.
One look at the movie's poster, in which an Afro-ed Wilson's face is obscured by an oil landscape, will of course remind plenty of folks of Bob Ross, a widely beloved and somewhat curious figure whose easygoing and encouraging personality (and magnificently permed hair) while serving as the host of 'The Joy of Painting' throughout the 1980s and into the '90s made him an adult-audience version of a cross between Mr. Rogers and an art therapist.
A 20-year Air Force veteran who retired from the military and turned to painting, Ross became a celebrated vessel for unlocking artistic skill in normal, everyday people by using an "alla prima" painting style, and rendering pleasant landscape paintings in less than a half-hour, the same live-to-tape length of his shows.
Though Ross passed away in 1995, long before the Internet, his fame grew through online clips. Ryan Reynolds even spoofed him in a teaser trailer for 'Deadpool 2.' He received the Netflix documentary treatment in 2021 with 'Bob Ross: Happy Accidents, Betrayal & Greed.'
Wilson is a canny comedic performer who, despite his gift with silver-tongued dialogue, is also quite comfortable with pregnant pauses and silences. And for his role in 'Paint,' the Texas-born actor adopts a version of Ross' consciously genteel, ASMR-triggering voice, offering up feel-good bromides ("There's nothing like having the one you hold dearest nearest when the world turns cold") and closing each of his shows with a signature sign-off: "Thanks for going to a special place with me."
'Paint' comes to the big screen more than a decade since landing on the 2010 Black List, an annual index of the most admired unproduced screenplays in the entertainment industry.
In addition to seemingly offering Wilson the chance to slip into another lovable oddball character, there's another connection to the material, too — Wilson's father was actually an advertising executive and operator of a public television station. That just might help make 'Paint' a special place, after all.