Television
'Outer Banks' Season 3 Sets Premiere Date at Netflix as Pogues Return in First Look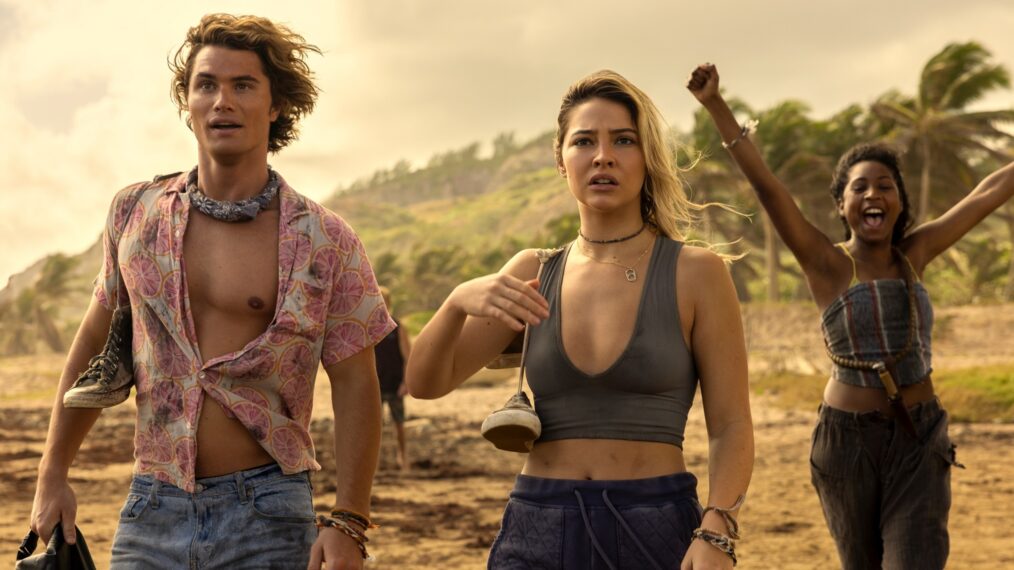 It's nearly time to return to the Outer Banks as Netflix sets a February 23 premiere date for Season 3 of the fan-favorite teen drama.
The streamer is also unveiling a first look at the action ahead with new images and a Season 3 poster. Showcasing the Pogues, including John B (Chase Stokes), Sarah (Madelyn Cline), Kiara (Madison Bailey), Pope (Jonathan Daviss), JJ (Rudy Pankow), and Cleo (Carlacia Grant), the photos are hinting at what their life is like on the desert island they find themselves washed ashore on.
Season 3 follows their time on the land which seems like an idyllic home they deem "Poguelandia." After losing the gold and fleeing the Outer Banks, they spend their days fishing, swimming, and reveling in the carefree lifestyle of their temporary dwelling. But everything quickly goes south for the pals when they find themselves caught up in a race for treasure and running for their lives.
Broke and far from home, the Pogues can't trust anyone. Ward (Charles Esten) and Rafe (Drew Starkey) are hungry for revenge, and there's a ruthless Caribbean Don who will stop at nothing to find the bounty. Was the treasure ever within their reach, or was it a trap to stop them once and for all? Regardless of the answer, it's the Pogues against the world in Season 3, and the only way out is together.
Season 3 will feature 10 hour-long episodes from creators and executive producers Jonas Pate, Josh Pate, and Shannon Burke who shared with Netflix's TUDUM, "The stakes are ramping up. The Pogues realize that their adventures in the first two seasons were merely the prelude to the granddaddy of all treasure hunts."
"The cast have been fast friends in real life pretty much from the very beginning, and it's been so gratifying to see those connections deepen over the years we've worked on the show," they added. "They are truly Pogues for Life." Along with Stokes, Cline, Bailey, Daviss, Pankow, Grant, Starkey, and Esten, Season 3 will feature Cullen Moss, Austin North, Julia Antonelli, Caroline Arapoglou, E. Roger Mitchell, Charles Halford, Elizabeth Mitchell, and Andy McQueen.
Don't miss it for yourself, catch the sneak peek images, above, and stay tuned for the Season 3 arrival of Outer Banks this February on Netflix.
Outer Banks, Season 3 Premiere, Thursday, February 23, Netflix