Television
Law & Order: SVU Season 24 Episode 14 Review: Dutch Tears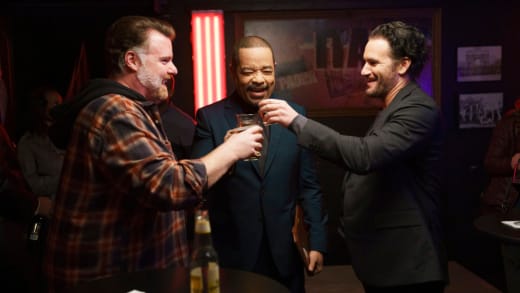 Fin fans should be thrilled tonight.

Law & Order: SVU Season 24 Episode 14 had everything we needed to celebrate our favorite underused cop: embarrassing speeches, a compelling case from the past, some great guest stars, including Days of Our Lives' Cady McClain, and an update on what Munch has been up to since leaving SVU. 

And to top it off, Fin's celebration comes the same week that, in real life, Ice-T is getting his star on the Hollywood Walk of Fame. The only thing that would have been better would have been a visit from Munch himself, but we can't have everything!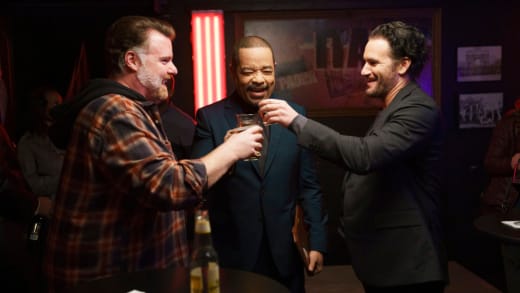 The promo focused on Dutch breaking into Fin's house. I'm glad that was only a tiny part of the hour; there have been too many cop-taken-hostage stories over the years.

Most of those stories featured Benson as the victim, but still. Dutch's break-in led to a more interesting story that offered redemption for both Fin and Dutch.

Although Fin was somewhat forced into it, he became a mentor for Dutch, who did for him what Benson often does for female survivors. Fin encouraged Dutch to stay calm, reminded him to focus on the positive, and reassured him that healing was possible.
Look, man, we all have armor upfront. And I know it's heavy, but I believe after tonight you'll be able to let go of some of yours.

Fin

Dutch was a unique, interesting character. While SVU has focused on male survivors from time to time, it hasn't often dealt with the problem of prison rape. The series has evolved over the years; in the early seasons, male-male rape in prisons often wasn't taken as seriously as the crimes the squad investigated.

Even though Dutch broke into Fin's house and attacked him, he never meant to hurt him, and throughout the hour, he was shown to be suffering from PTSD and needing help managing his anger. Despite the rocky beginning, he was a sympathetic character.

It made sense that Fin tried to make up for the past by mentoring Dutch now. That also allowed FIn to show a softer, more fatherly side.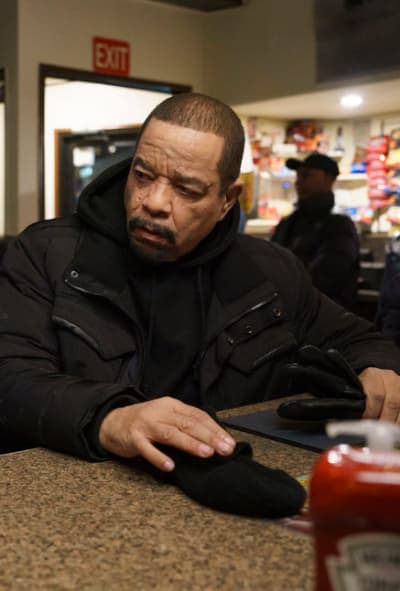 One of the most emotional scenes was Fin and Dutch discussing Fin as a father. I was thrilled for a Ken reference — we haven't heard much about him in a while, and his last appearance was several years ago — and Fin also regretted not being the kind of father he wanted to be for Ken when his son was younger.

Fin was able to stop Dutch from attacking Virgil at the end of the hour, but I'm not sure that ID will hold up in court.

Fin told Dutch ahead of time to "identify Virgil" to begin to heal. Using a cigarette lighter might have triggered a false memory of seeing Virgil's face, and Dutch attacked Virgil after Virgil was in cuffs.

A defense attorney could poke a ton of holes in that ID. Maybe that'll happen in a sequel episode someday!

I was curious about CO Ryan's wife.

Cady McClain had said that she played an opposite type of role than she does on Days of Our Lives. Her performance was doubly impressive because the role was so different.

Mrs. Ryan was protective of her husband and willing to warn his accomplice-in-rape that the cops were sniffing around.

I loved her reaction when she heard the DA might get involved. She loved and was loyal to her scumbag husband, but I would have loved one more scene where the cops asked her if she understood she was protecting a rapist. The dynamics between Mrs. Ryan and Benson would have been fascinating.

I enjoyed the small glimpses we got and wanted more!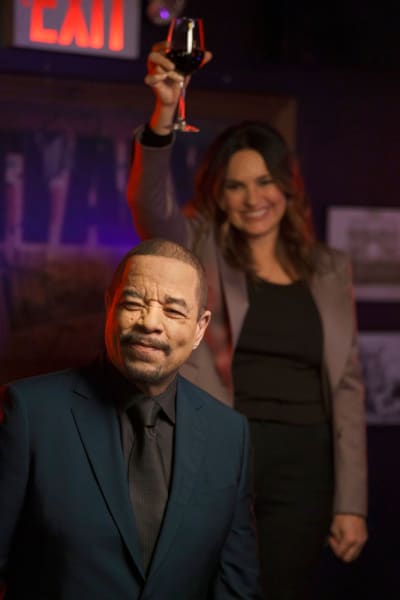 Carisi had CO Ryan pegged when he said the guy was a self-interested scumbag. Ryan lied easily, saw prisoners as less than human, and had no problem inviting Virgil to rape inmates as part of his peacekeeping operation.

He was one of SVU's more loathsome villains. How many more Dutches are out there who haven't spoken up about the way they were treated in prison, thanks to Ryan and Virgil's scheme?
Dutch: Why didn't you shoot him?
Bruno: Because even though I'm rich, I like my pension.

Fin's big story also allowed him to bond with Bruno.

I thought Bruno's personality on Law & Order: SVU Season 24 Episode 13 was similar to Munch's, and I was glad that Fin validated my opinion.

And, of course, the update on Munch was a pleasant surprise!

It's ironic that he moved back to Baltimore since on Law & Order: SVU Season 1 Episode 1, he declares he will never set foot in that city again. But the rest of Munch's new life sounded like classic Munch.

A Richard Belzer cameo would have been lovely, but Belzer lives in France now, so he likely was unavailable for a guest shot.

The final scene was also unexpected. After all was said and done, Benson's encouragement of a still-guilty Fin seemed like an ending, but there was still a bit of unfinished business.

Fin did a Benson himself, finding Dutch's daughter and reuniting them. And even better, the young woman was open to getting to know her father rather than being bitter that he had been in jail throughout her childhood and that she'd never been allowed to visit.

That was a sweet ending for Dutch, and Fin made a new friend in Bruno, who is finally fully part of the Manhattan SVU.

What did you think, Law & Order: SVU fanatics? Hit the big, blue SHOW COMMENTS button and let us know.

Don't forget you can watch Law & Order: SVU online on TV Fanatic.

Law & Order: SVU airs on NBC on Thursdays at 9 PM EST / PST.
Jack Ori is a senior staff writer for TV Fanatic. His debut young adult novel, Reinventing Hannah, is available on Amazon. Follow him on Twitter.