Television
Chris Harrison Says Kaitlyn Bristowe & Tayshia Adams Were 'Doomed to Fail' as 'Bachelorette' Co-Hosts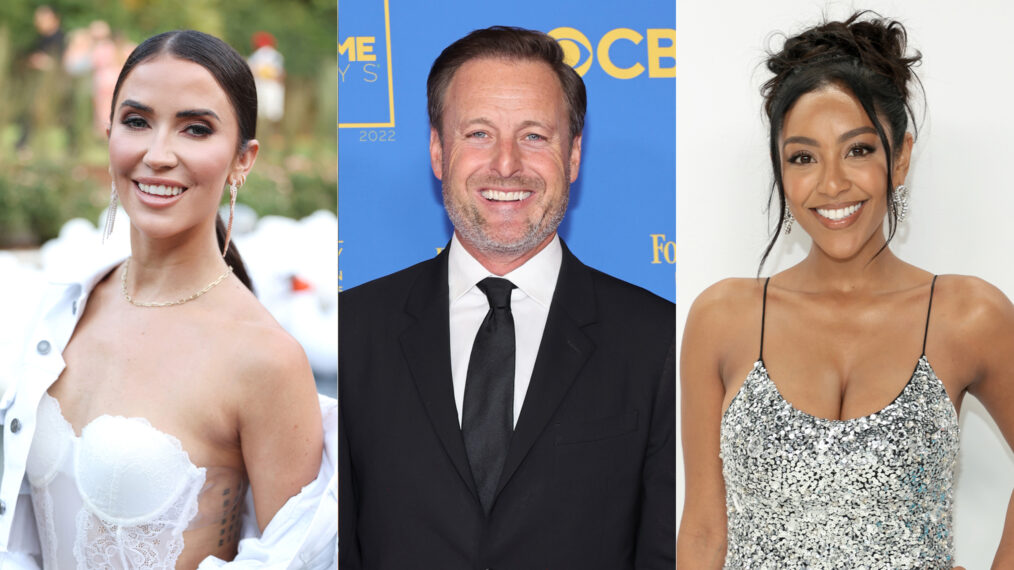 Kaitlyn Bristowe and Chris Harrison's friendship hit a rough patch amid the former Bachelor host's high-profile exit from the ABC franchise in 2021, but the pair are now hashing things out.
Harrison recently invited the Bachelorette alum to his new podcast series, The Most Dramatic Podcast Ever… With Chris Harrison, where they discussed their relationship and how things changed after she and Tayshia Adams took over hosting following Harrison's departure.
The pair agreed that she and Adams were "set up to fail," with Bristowe telling Harrison that ABC categorized them as "mentors" rather than hosts because "they didn't want to pay me what they paid you to host."
She also explained her feeling of "imposter syndrome" after taking over from someone so synonymous with the franchise. "When I went into it, blind, I got there and started reading off a prompter, and I was like, 'Oh, okay, so we are definitely hosting.' That's when I knew it was actually happening… There was no training involved. It was kind of like, 'Just go out there and be yourselves!'"
Harrison added that having two hosts was a recipe for failure. "The only thing that really upset me when I heard that you and Tayshia were hosting was that it was you and Tayshia and that they named two of you," he said. "Because you were doomed to fail. You were set up to fail. That was never going to succeed."
"There's not room for two people; there's not room for two mentors. There's not room for two emotions in that mental space that you're taking over. So, that was just never going to work," he added.
Bristowe agreed, saying how having two hosts "kind of made us feel silly and goofy with each other" and not take the role as serious as one person might have. "Like you said, there really isn't enough room for two people to be in that position."
Harrison, who said he wished Bristowe would have called him during her negotiations with ABC, also touched on their friendship and where things drifted apart.
"I was going through something extraordinary, and it had really nothing to do with you or Tayshia," he explained. "And at that time, I needed people in my life… that could be unconditionally loving and caring. You weren't equipped to do that because of where you were in all this."
Bristowe understood, even at the time, as she stated, "When I didn't get text messages back, I was like, this is what it has to be. The relationship obviously has to change. I wanted to continue to reach out and check in and talk, but then I felt, like, he's not ready to talk to me."
Harrison left the franchise in June 2021 after backlash to comments he made defending the racist actions of former contestant Rachael Kirkconnell. He had been hosting the series since 2002.
The Bachelor, Mondays, 8/7c, ABC