Television
AJ Michalka on Lainey's Return & Reuniting With Barry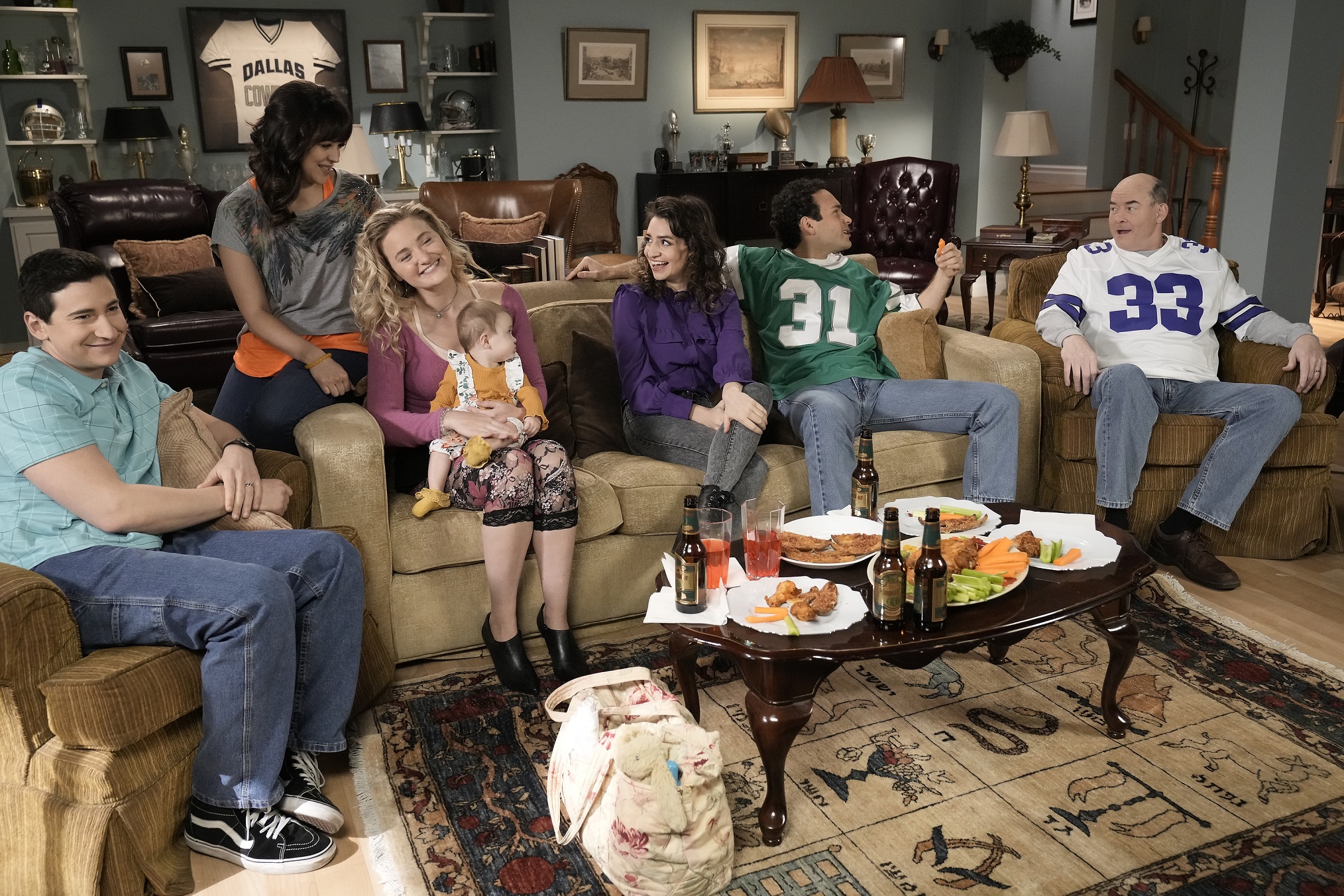 [Warning: The below contains MAJOR spoilers for The Goldbergs Season 10 Episode 14 "Two-Timing Goldbergs."]
A familiar face made a special return in the latest episode of The Goldbergs as AJ Michalka's Lainey Lewis paid her friend Erica (Hayley Orrantia) a visit.
Returning home from L.A., she meets baby Muriel for the first time, but when Erica notices her brother Barry (Troy Gentile) stopping by Lainey's house on secret excursions, she's suspicious. But not everything is as it appears because Lainey and Barry aren't having secret rendezvous as Erica expects; instead, her brother is seeking sports solace at the Lewis household with Lainey's dad, Bill (David Koechner).
Despite the surprising twist, Lainey's presence was ever-welcome as she got to catch up with Eric and the rest of the Goldbergs gang. "Every time I get the call or the email that they want to bring me back, I'm always excited," Michalka gushes to TV Insider. "It truly feels like family. I really love these people. We've grown up together and I've spent all my 20s playing this role, and now here I am at 31 and bringing Lainey back for Season 10."
While Michalka's taken a step back from a more regular role on the show, she manages to keep a welcome presence on the family comedy and has appeared in every season since it debuted. Now a little older and wiser, Lainey isn't as prone to making mistakes, but, luckily for fans, she can still get caught up in the Goldbergs drama just as easy as she has before.
"Our camaraderie as a cast is dynamic and interesting," Michalka remarks. "And I think there's such a bond on camera that it creates a really authentic relationship of comedy between Barry and Lainey and Erica and Geoff." And that natural vibe extends behind the scenes. "It's kind of cool because I feel removed from the show, so I still have a gratitude for it when I enter the space again. But at the same time it is like, I've never left because these people know me so well," she shares.
One star who certainly knows Michalka is her onscreen dad David Koechner. "He's a really good onscreen and offscreen dad," the actress says, noting that the only episode she's missed with him was because she was on tour at the time. "My plan for Bill was always to date Beverly (Wendi McLendon-Covey) down the road and it's not too late," Michalka adds, "even if he got remarried to someone else…"
And although Bill was the person Barry was caught leaning on as they both grieve the loss of Murray (Jeff Garlin), the question of whether he'll be able to turn to Lainey again still lingers. For longtime fans of the show, hopes that Barry and Lainey may get back together isn't far-fetched — even Michalka agrees.
"This is a funny episode for exposing that possibility and I actually would love to see that happen," she says. "The timeline of the show is different than life, so I don't know if 10 years have actually really passed, even though we've been on the show for 10 years. I think there could still be some kindling between Barry and Lainey. And to be honest, I've always seen them ending up together at the very, very end."
When that will be, only the show creatives know. One thing's for sure though: Lainey's going to keep on lingering as long as The Goldbergs are on TV. As for her hopes regarding Lainey's next appearance? "I would love to see Lainey take on a babysitter role. I think it would be a really funny episode if Erica and Geoff left town and Lainey is dealing with the babies and maybe Barry has to step in and help."
Sounds like the episode is writing itself already.
The Goldbergs, Wednesdays, 8:30/7:30c, ABC