Horror
Q&A: Writer Cullen Bunn Discusses New Comixology Originals Series RETROVERSE, Check Out Exclusive Character Design Artwork by John Bivens
Waking up in an alternate reality after a night of partying, 19-year-old Kacy Martin is haunted by mutating creatures as she navigates her newfound existence in Retroverse, a new comic book series from writer Cullen Bunn, artist John Bivens, and letterer Anna Peterson. With the first issue of Retroverse coming out on December 13th as part of Amazon's Comixology Originals, Daily Dead caught up with Bunn to discuss his new sci-fi horror series, including teaming up with Bivens, working with Comixology, and interweaving poignant drama with heartfelt horror.
In addition to Retroverse, Bunn discusses his new comic book series Door to Door, Night by Night and the TV series adaptation of The Sixth Gun that's in development with Selwyn Seyfu Hinds for UCP.
As a special treat for Daily Dead readers, we've also been provided with an exclusive look at Bivens' character design artwork for Retroverse, and we have preview pages from the first issue of Retroverse ahead of its December 13th release!
You can read our full Q&A with Bunn below, and to order the first issue of Retroverse, visit Amazon!
Thank you so much for taking the time to answer questions for us, Cullen, and congratulations on your new comic book series Retroverse! When did you and John Bivens come up with the idea for this sci-fi horror story?
Cullen Bunn: Retroverse has a strange, multi-faceted origin, to be honest. It's a story I've had in my head for a long while. Well, it was several stories I had in my head for a long while. I started talking to Comixology about doing something a little weird for them, and as I started brainstorming the book, I started weaving these different elements together in something similar to the book that will now be coming out. Then, John and I started talking about doing a comic book together, and I threw out the idea for Retroverse. When he started designing some of the characters, the book took an even more strange turn. It's been mutating since the beginning, which I think is appropriate for the title.
John's artwork gorgeously brings all the gruesome elements of Retroverse to life on the paneled page. What is it about John's style that made him the perfect fit to team up with on this series?
Cullen Bunn: John does such a great job with the weird, otherworldly body horror of Retrovese. And it is always in an unexpected way. Without giving away too much, his designs for the primary villain of the book were so different from what I had envisioned. At the same time, though, they couldn't be more perfect. John embraces the surreal in this series, helping to make it something more than a typical monster-fest.
Retroverse follows 19-year-old Kacy Martin, who is forced to face an alternate reality where she is supposed to be dead and a lethal extraterrestrial entity hunts her at the most unexpected moments. As much as Retroverse is a story of survival, it's also an emotional story of self-discovery for Kacy. How important was it for you to interweave those elements of grounded drama with otherworldly horror throughout Retroverse?
Cullen Bunn: In the end, we could strip all the monsters and body horror out of the book, and we'd still have a story where a young woman is struggling with the notion that the world might be better off without her. That's the core of the book. That's the real struggle Kacy has throughout the series. So it was essential that those ideas come across, even when the entrails are flying and bodies are mutating horribly.
I love how the alien creature keeps popping up in creepy ways in Retroverse, including one time being puked out of someone. How fun was it for you to keep thinking of ways to keep the horror fresh and surprising in Retroverse?
Cullen Bunn: I'm a monster guy. I'm a guy who likes body horror. I'm a guy who likes monster-fighting anime like The Guyver. So, yeah, it was a lot of fun to come up with these different hideous creatures, these "natural" antibodies reality keeps creating to take Kacy out.
What has it been like to team up with ComiXology to publish Retroverse as a ComiXology Original?
Cullen Bunn: ComiXology has been a blast to work with. I've already been planning some new projects for them. I definitely want to continue working with them in the future.
The initial arc of Retroverse is five issues, but do you and John have plans to expand this series beyond that if given the opportunity?
Cullen Bunn: For sure! This is a series that could go on for quite a while, and I'd love to have that opportunity. There are so many possibilities for this… well… "world" isn't the right word. So many possibilities for this multiverse.
Ultimately, what do you hope readers take away from Retroverse?
Cullen Bunn: As I mentioned, as much as I think this is a fun series with lots of monsters and lots of action, I hope readers think a bit about their place in the world, their value, even when they may not see it, especially when they don't see it.
In addition to Retroverse, you have another horror comic book series that just premiered through Vault Comics called Door to Door, Night by Night, which features artwork by Sally Cantirino. What can you tell our readers about the supernatural scares and door-to-door salespeople that await them in that series?
Cullen Bunn: Door to Door, Night by Night is a crazy horror/comedy series featuring a group of salespeople who happen to find monsters in the small towns they visit. The heroes of the book aren't necessarily heroic. They're bungling. They're foolish. They're broken. The monsters, on the other hand, are terrifying. There aren't any "traditional" monsters in the book. No vampires or werewolves. The creatures our monster killers meet are very different, and I think they offer some real surprises, thrills, laughs, and chills.
Your comic book series The Sixth Gun, which you co-created with Brian Hurtt, is being adapted as a TV series by Selwyn Seyfu Hinds for UCP. What are you the most excited to see in a TV series adaptation of The Sixth Gun?
Cullen Bunn: All right. I can't say much. But I will tell you that Selwyn has written one of the coolest scripts I've read in a long, long time. It's true to the book. It's bold. And it goes places viewers will not be expecting at all! I'm really hoping this thing crosses the finish line, because it will completely destroy preconceptions folks might have about supernatural westerns. And it will definitely be something that people will want to read the book once they've seen the show!
You've created new stories within the universes of amazing IP over the years, from Spider-Man: Season One to Godzilla vs. the Mighty Morphin Power Rangers. Is there an existing IP that you haven't worked on that you would love to write a story for in the future?
Cullen Bunn: Oh, I'm sure there are many. There are a bunch of comic book characters I'd love to do something with. Over my desk is a big poster for the movie Phantasm 2. I think I'd absolutely love to do something in the world of Phantasm. That would be a bucket list comic for me.
In addition to working on your own creations, have you been reading or watching anything lately that you would recommend to our readers?
Cullen Bunn: The last few weeks have been pretty busy for me. I feel like I've been on the go non-stop and haven't had a lot of time for reading or viewing. I finished the novel My Heart is a Chainsaw by Stephen Graham Jones, and I highly recommend it. A sequel is coming out soon, and I can't wait. I have been watching a bunch of Doctor Who lately. And I just started the Wednesday series, which wasn't what I expected, but I still enjoy it. Every week in my newsletter, I let readers know what I'm reading, watching, listening to, and collecting. If you haven't subscribed, you can do so at https://cullenbunn.substack.com/. I'm even serializing a Christmas horror story there about Santa, Krampus, and Nyarlathotep.
With the first issue of Retroverse coming out on December 13th as a ComiXology Original, what other upcoming projects can you tease for our readers?
Cullen Bunn: I have Door to Door, Night by Night coming out right now. Night Walkers, an apocalyptic vampire series, is coming out from Source Point Press starting in January. You can pre-order it now! I have a new action/spy series called Red Zone coming out from AWA. And I've got a few unannounced projects on the way, too!
Thank you very much for your time, Cullen, and happy holidays!
Cullen Bunn: Thank you so much!
———
Press Release: New York, NY—Acclaimed Harrow County, The Sixth Gun, and The Empty Man writer Cullen Bunn, artist/colorist John Bivens, and letterer Anna Peterson are unleashing Retroverse, a new horror sci-fi comic book series as part of the Comixology Originals program. In this gripping 5-issue series, a teenager finds herself in an alternate reality where she must fend off monsters and save her town. Retroverse #1 arrives December 13, 2022 from Amazon's Comixology Originals exclusive digital content line.

"After a wild, drunken party, 19-year-old Kacy Martin wakes up in an alternate universe—one where she has been dead for 13 years," said Bunn. "She must navigate the heartbreaking waters of a world that seems to have turned out much better without her in it. And she must do so while wielding newly discovered, terrifying abilities against alien horrors."

"I'm pretty sure when Cullen and I started talking about this project, he knew I worked as a butcher for years before working full time as a comic artist," added Bivens. "Because of that, it makes sense to design realities connected by muscles, organs, and viscera… and my goal is to make the reader think that what they are looking at is squishy."

In the series, Kacy must convince her boyfriend T.J. and BFF Krissy that she is who she says she is and traverse this new and scary reality-where she's not supposed to be alive-and all that comes with it. Is it a nightmare or was she made for this?

"With comics like Harrow County, The Sixth Gun, and The Empty Man, Cullen Bunn has established himself as one of the great horror comic writers of this generation and John Bivens' art for Retroverse dazzles," said Comixology Originals Lead, Bryce Gold. "Together, they've created a compulsively readable comic that will have readers on the edge of their seats."

"This is a project I've had in mind for quite some time," says Bunn. "While talking with John about potentially working together, I realized he loved weird horror/sci-fi/monster mash-ups as much as I did, and I threw the idea for Retroverse his way. We're thrilled to have the series available from Comixology Originals."

Comixology Originals titles are available at no additional cost for members of Amazon Prime, Kindle Unlimited, and Comixology Unlimited, and for purchase atamazon.com/comixology. Prime Reading offers all Amazon Prime members a rotating selection of over a thousand top Kindle books, magazines, short works, comic books, children's books, and more – all at no additional cost. Kindle Unlimited gives customers access to more than 1 million titles, including thousands of audio books, and current magazines for just $9.99 a month with a free trial period at amazon.com/kindleunlimited. Comixology Unlimited offers over 40,000 comics, graphic novels and manga for just $5.99 a month with a 30-day free trial at amazon.com/comixologyunlimited.

About the Creators:

Cullen Bunn is the writer of creator-owned comic books such as The Sixth Gun, Harrow County, Bone Parish, The Damned, The Empty Man, Regression, Door to Door, Night by Night, and The Ghoul Next Door. He has also written books such as Deadpool Kills the Marvel Universe, Uncanny X-Men, and Asgardians of the Galaxy.

John Bivens' work has appeared in the Eisner and Harvey Award winning Comic Book Tattoo, the Harvey Award winning Popgun volume 4, and the Harvey nominated Reading with Pictures. He has also received nominations for an Eagle Award and a Ghastly Award. He has worked for IMAGE Comics, Heavy Metal Magazine, Vault Comics, Valiant Comics, IDW Publishing, and others. John's work spans the genres of crime, horror, science fiction, fantasy, romance, and education.

His education includes the undergraduate illustration program at Northern Illinois University and the Graduate program at Minneapolis College of Art and Design. He has taught as an adjunct professor at Northern Illinois University, Dakota County Technical College, and participated in multiple visiting workshops and panels.

John currently resides in Minneapolis, MN where he is a proud member of World Monster HQ studios.
Exclusive Character Design Artwork by John Bivens: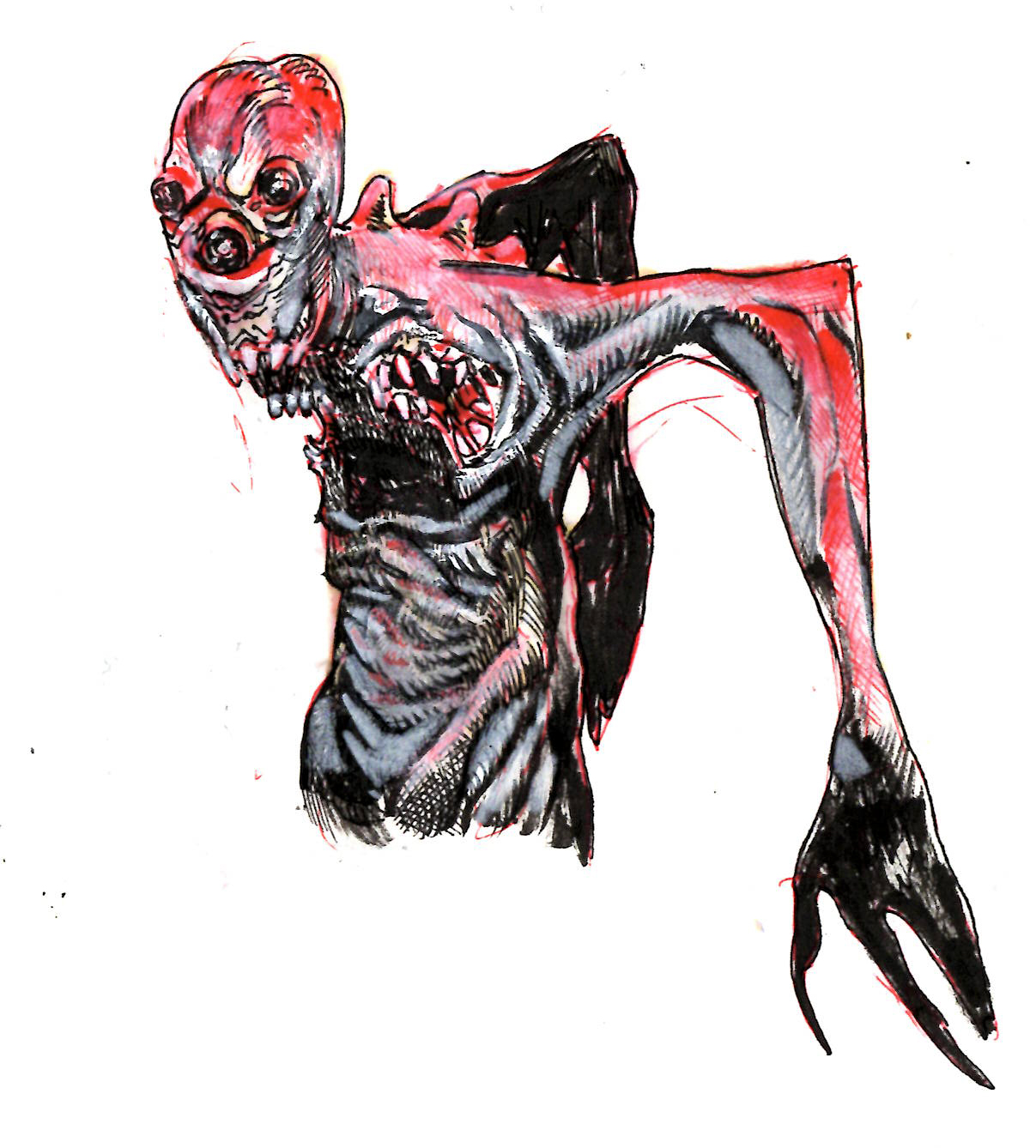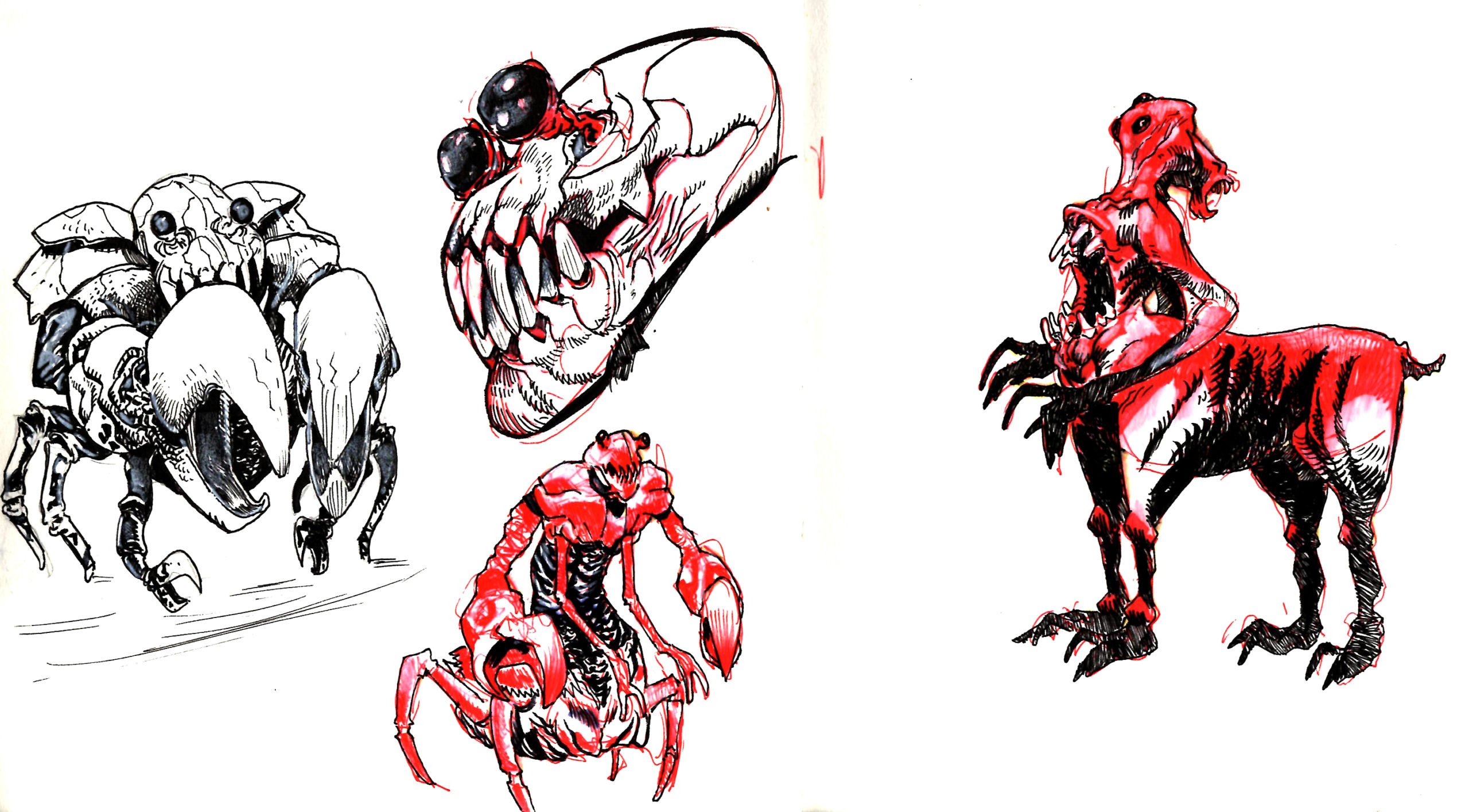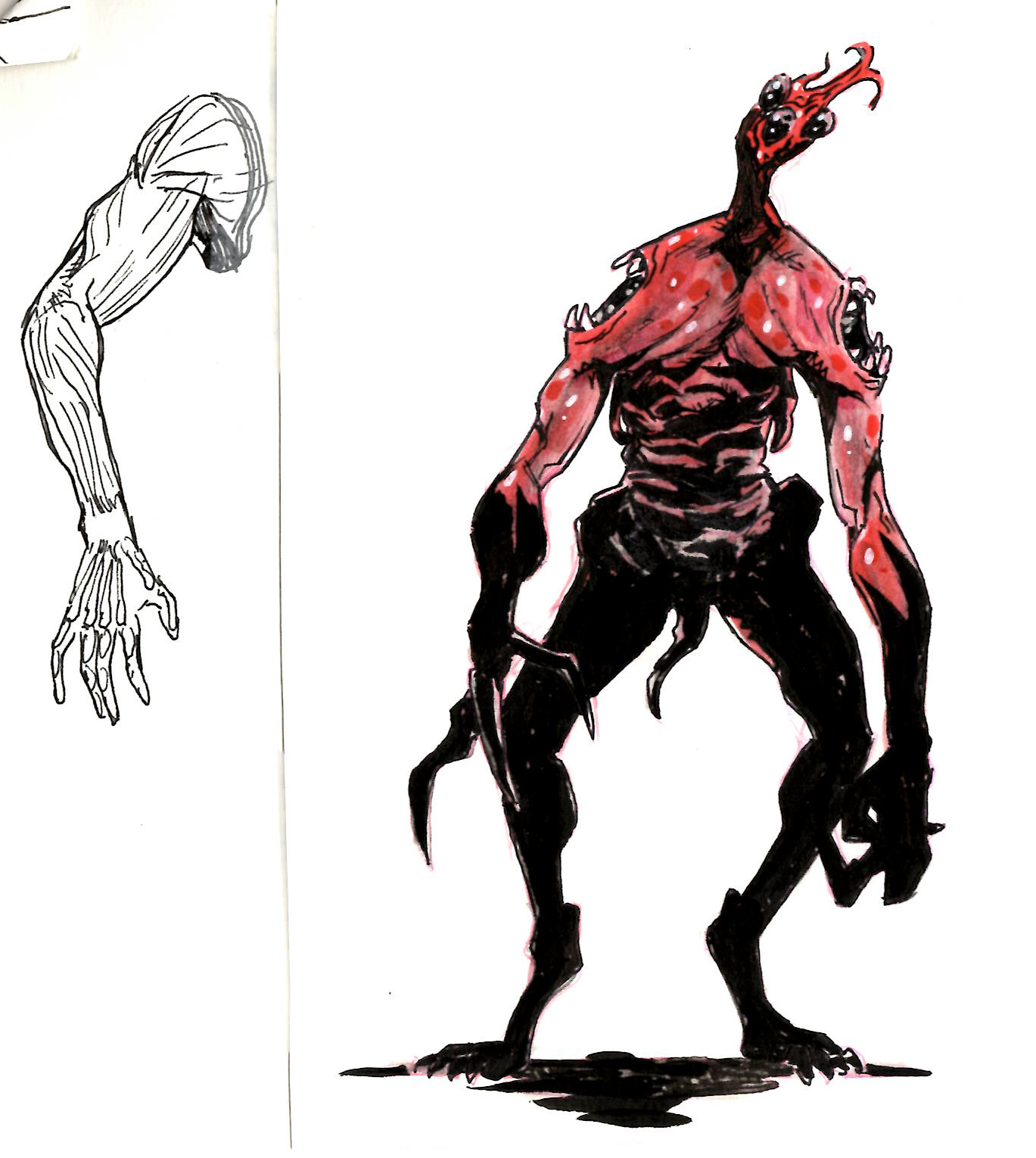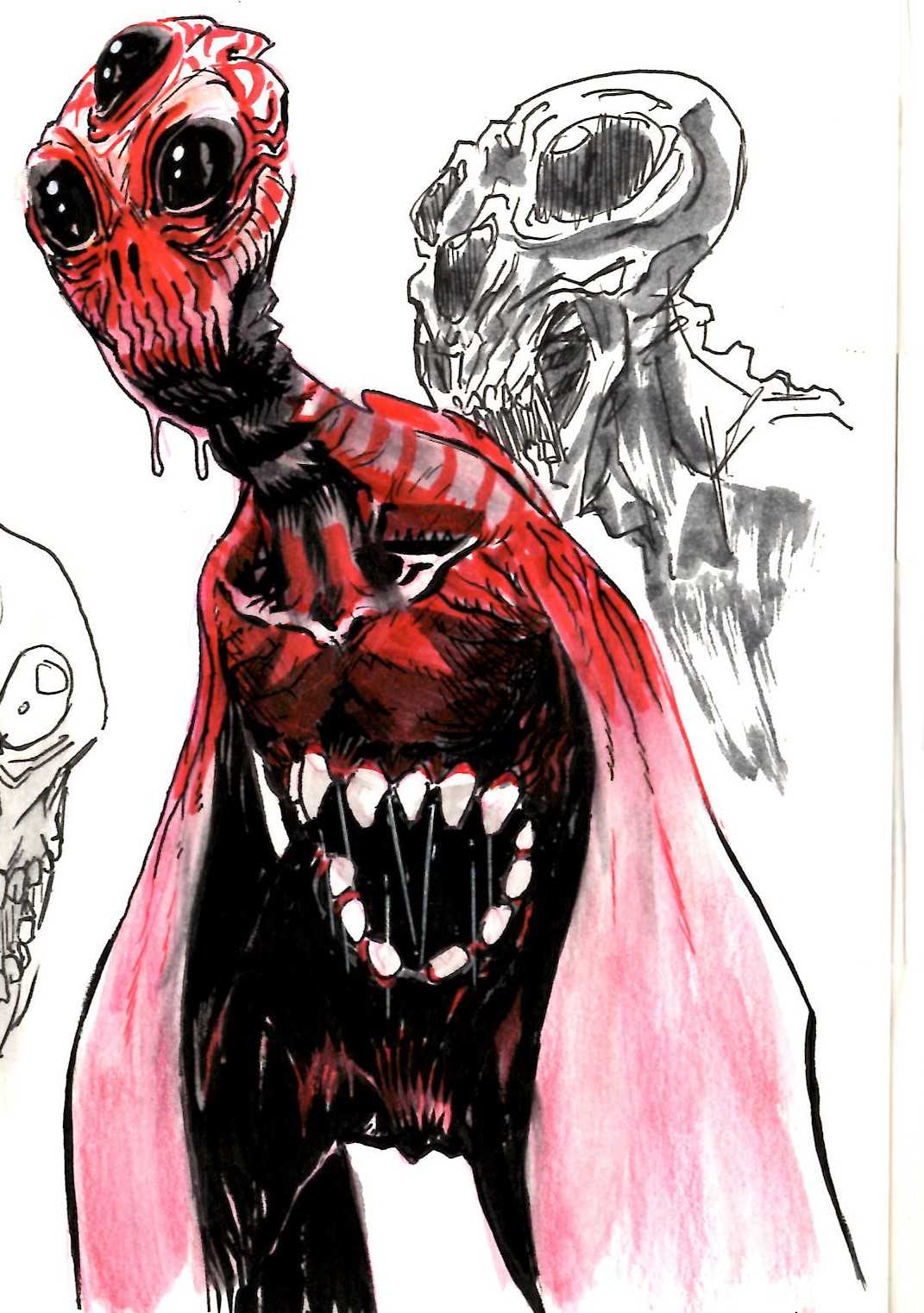 Preview Pages from Retroverse #1: