Horror
Bunnies vs Goats Round #1. Playmate of the Year Strikes First Blood in New Clip From Kill Her Goats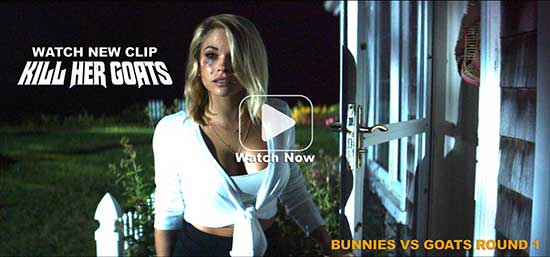 Any classic slasher flick is only as good as the gruesome menace that terrorizes their victims. KILL HER GOATS (dir. Steve Wolsh, MUCK, FOG CITY) took this to heart when casting horror legend Kane Hodder (FRIDAY THE 13TH HATCHET) as the brutally awesome 'Goatface.' To survive him and his double-bladed chainsaw would be a tall task for any final girl, but that's not the only horror the characters will have to overcome in this slow burn vintage style slasher romp.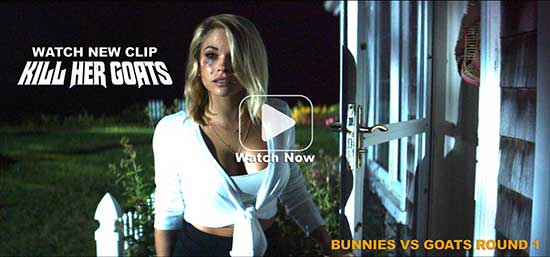 Here are some more details on the story and plot for KILL HER GOATS, slated to release on 4K, Blu-ray and DVD as well as VOD in March.
The film follows Audra Bucklebee (Arielle Raycene, BUPKIS) as she returns home for the first time since her toxic breakup with ex-boyfriend Devon (Skyler Seymour). In hopes that she makes this move home permanent, her father Conwell bought Audra her dream home as a graduation gift. The house, located in fictional town of West Craven on Cape Cod, is famous with locals as being cursed and all around haunted by the souls of the original owners, the Tupp Family. All the Tupp's either went mad, were murdered, or suspiciously disappeared. So, moving into a cursed house, plus an unavoidable reunion with the ex-boyfriend that threatened her never to return home… Audra's surely in for a chill homecoming.
The film takes place over one day as Audra celebrates settling in her new home with her best friends Reese (Monica Sims), and Missy (Ellie Gonsalves). It also features Dani Mathers as Audra's estranged sister Haley Bucklebee, and Amberleigh West as Devon's (Seymour) new girlfriend, Autumn. It's truly a throwback slasher film with all practical horror FX, and creature effects by Ben Bornstein (RESURRECTION, NANNY).
See more at killhergoats.com