Horror
Archie's House of Horror: HAPPY HORROR DAYS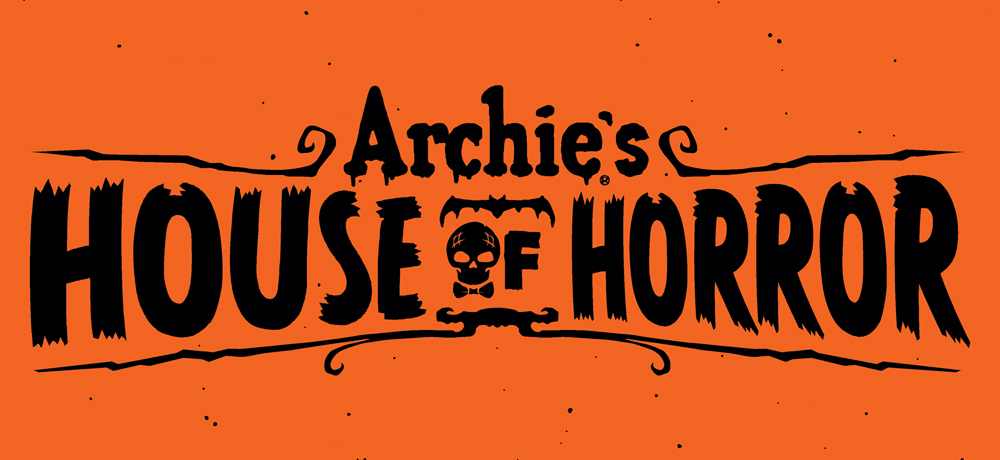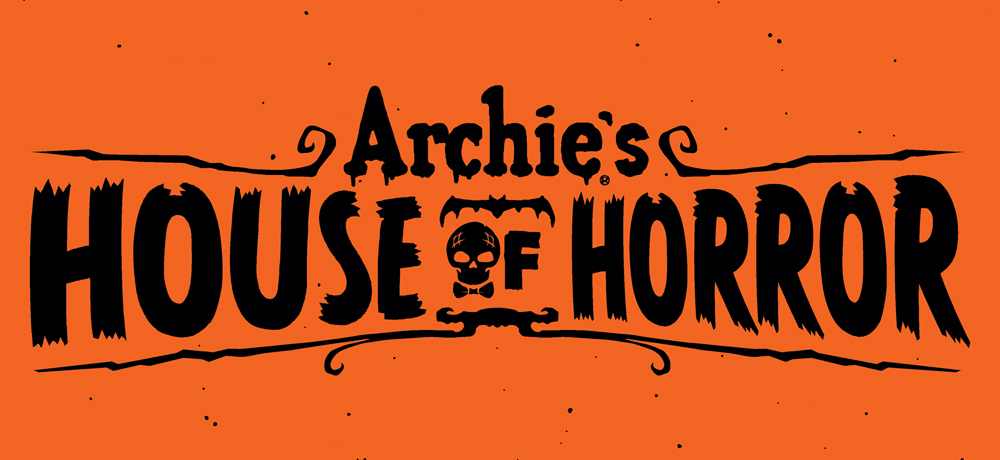 [Editor's Note: Welcome to Archie's House of Horror! We're thrilled and chilled to team up with Archie Comics for this new recurring column written by Jamie L. Rotante, writer and Senior Director of Editorial at Archie Comics. Each column takes a closer look at the terrifying themes and eerie inspirations found within the pages of the ever-expanding world of Archie Horror, with this month's column focusing on the festive frights and seasonal scares of the new one-shot anthology Happy Horror Days.]
Christmas is a terrifying time.
And no, I don't mean it in the commercialist and capitalistic sense (though I mean, yes, of course), but the roots of Christmas are actually pretty gosh darn spooky. The Christmas we know of today (both sacred and secular) stemmed from a winter solstice celebration filled with revelry and debauchery. It was a time of transition, warding away evil spirits and witches, telling spooky stories by candlelight, and by going door-to-door, not to sing jovial carols, but to play tricks and wear costumes.
Sound familiar?
When you think of Christmas as almost a second Halloween, it makes sense why the season lends itself so well to horror. During the winter solstice, telling scary stories was something people could do by candlelight during the long, dark, cold evenings before the invention of electricity.
Victorian England ushered in the era of printed Christmas ghost tales, thanks to the development of the printing press. Charles Dickens was a key player in making the genre popular in England, while also shaping Christmas literature as we know it with one of the most well-known and beloved holiday stories in A Christmas Carol, a story entirely about ghosts. Of course, it became much more sentimental than spooky over time with each new interpretation and adaptation. Bah humbug.
Thankfully, there are other parts of the globe that kept horror alive during the holiday season. At this point, everyone's familiar with the horned, hoofed monster known as Krampus, but his exact origins have proven difficult to trace. Krampus is believed to have originated in Germany, as his name derives from the German word "krampen," which means claw.
Much like most Christmas traditions, Krampus may have been a part of the pagan rituals for the winter solstice. Legend says that he's the son of Hel, the Norse god of the underworld. Both he and St. Nicholas are said to arrive on the evening of December 5th. Known as Krampusnacht ("Krampus Night"), St. Nicholas rewards nice children with presents, while Krampus beats the naughty kids with sticks. December 6th, the Feast of St. Nicholas, is when children wake to find either gifts or bruises (a lump of coal doesn't sound so bad now, does it?). The Krampusnacht festival is still celebrated to this day, with some offshoots even occurring in spots in the United States.
Ok, but what does any of that have to do with Archie Comics?
Archie has long prided itself on being THE Christmas comic company, and we've got oodles of holiday comics, graphic novels, and merchandise to prove it. But we've also been growing as a horror publishing company, with one of our most well-known horror titles The Chilling Adventures of Sabrina, spawning its own wildly popular Netflix series. And that's just one of the many horror titles we've published, and will continue to in the future.
So of course, it only made sense to marry the two!
One of these series was Jughead: The Hunger, the brainchild of the inimitable writer Frank Tieri. The series centers on the truth about Jughead's boundless hunger—it's not just that he craves burgers, he's got a bloodlust as well. Why? Because Jughead Jones, like all the Jones before him, is a werewolf. WereJug's (as we affectionately call him) power and brute force is often unmatched, aside from a few encounters with werewolf hunters (one of which is his very own best friend Betty Cooper—awkward!). However, how would he stand up against a similar monster/animal hybrid, someone with horns and fangs—all the bells and whistles (or should I say bells and chains)?
And so, the idea of WereJug vs. Krampus was born. We were thrilled to reunite the team of Frank Tieri, artist Joe Eisma, colorist Matt Herms, and Jack Morelli for another bite of the fleshy, fleshy apple. Who do you think will win?
I thought I was pretty up on the more frightening holiday folklore, your standard Grandfather Frost, Baba Yaga tales and the like, but writer Joanne Starer made me aware of one that I had never heard before: the Icelandic Yule Cat, or Jólakötturinn. And I'm so grateful for introducing me to this wonderful creature, not only because it made for a fantastic Archie story, but because it's legend might be one of my favorites. Jólakötturinn is a giant, vicious yule cat that lurks around the snowy countryside of Iceland during the holidays, eating people who have not received any new clothes to wear before Christmas Eve. Farmers would often threaten their workers with the Yule Cat so they'd finish processing wool before Christmas.
Joanne's idea to pair the Yule Cat with Sheila Wu, an Archie character known for being a fashionista who designs her own clothes, was an inspired choice. And of course, we had to set it in Iceland, which allowed for some beautiful backgrounds and landscapes by artist Butch Mapa. Butch also created a few different versions of the Yule Cat. Editorial settled on the most unconventional one, allowing us to give it our own Archie flair. This and the final story in the Happy Horror Days anthology was rounded out by the expert team of Glenn Whitmore on colors and Jack Morelli on letters.
That one is a story about poor, wretched Reggie Mantle. He's a like the Grinch with a dash of Ebenezer Scrooge, and a healthy dollop of Patrick Bateman, all in the form of an egotistical teenage boy. He's the ultimate villain but yet, we can't help but feel for him. Sometimes. So, he's the ideal protagonist for a holiday tale.
Long before there was that creepy narc know as Elf on the Shelf, Archie had Jingles, Riverdale's very own elf that served a similar purpose. Jingles has always been a bit more of a miscreant, much the opposite of his holiday counterpart Sugarplum the Fairy. Sugarplum takes her job pretty seriously: she arrives during the holidays to spread Christmas cheer. Jingles like to play a little fast and loose in his role: he's usually there to check in on the teens to make sure they stay off the naughty list, but sometimes he has fun poking them and causing mischief.
The idea of elves and fairies watching and reporting kids during the holidays has always been kind of weird, so why not go ahead and make it downright evil? You'll never look at that impish little toy on your shelf the same way again. Writer Joe Corallo did a fabulous job of leaning into Reggie's wicked side, while playing up the creepiness of the decades-old Archie Christmas characters. And it's all brought to gruesome, horrifying life by artist Patrick Piazzalunga. The ending of this story will send chills up your spine (and that's not just from the snow!).
So, there you have it, three Archie holiday stories that will have you checking your list of nightmares twice. And there's still so much holiday horror to explore—in Iceland alone there's Grýla the Giantess and the Yule Lads. Maybe Sabrina can face off against Frau Perchta. And don't even get me started on what we could do with Mari Lwyd. But I guess yule just have to check in this time next year to find out!
———
To learn more about Happy Horror Days and to order a copy of the new one-shot anthology (either for yourself or the horror lover in your life this holiday season), visit:
HAPPY HORROR DAYS #1 (ONE-SHOT)

'Twas the night before Christmas, and all through the house, not a creature was stirring not even a… werewolf?! The holidays look a little different in Riverdale this year—Santa's nowhere in sight but Krampus is on the rampage! Who can take him down? Why only someone who can meet his match, and that someone's best friend/monster hunter. That's right, WereJug returns to do battle with the horned and hoofed holiday beast with Betty Cooper in his corner! Then, we dive into the true story of the Icelandic yule cat, Jólakötturinn, and her master—Sheila Wu?! Finally, Reggie meets a nice girl that he takes to the holiday dance—but things aren't as they seem when she systematically dismantles Reggie's life! The holidays are horrifying in this special horror anthology that reunites the team of Jughead: the Hunger!

Script: Frank Tieri, Joanne Starer, Joe Corallo
Art: Joe Eisma, Butch Mapa, Patrick Piazzalunga
Colors: Matt Herms
Letters: Jack Morelli
Cover: Adam Gorham
Variant Cover: Robert Hack
On Sale Date: 12/14
32-page, full color comic
$3.99 U.S.
Cover by Adam Gorham: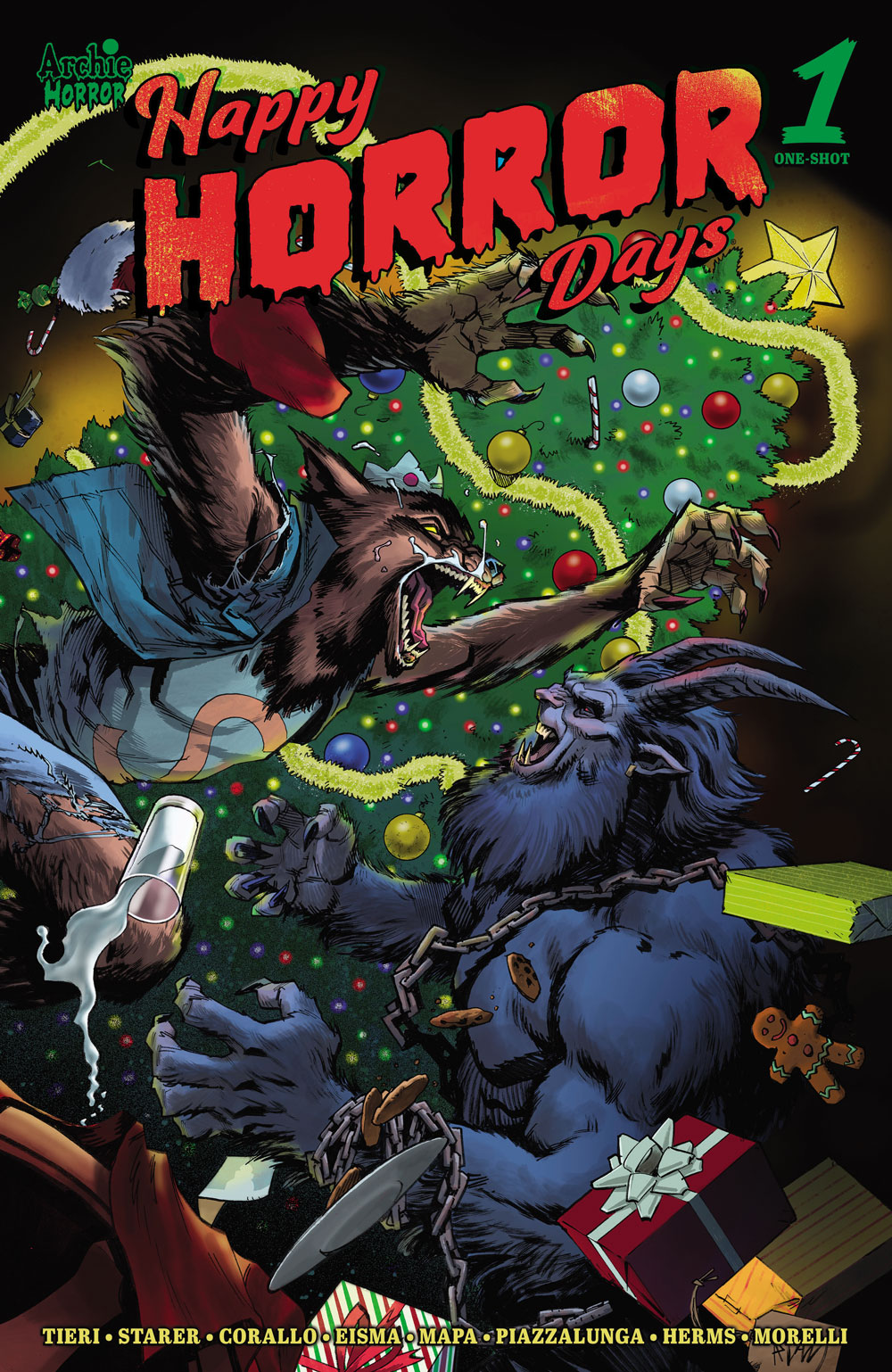 Variant Cover by Robert Hack: