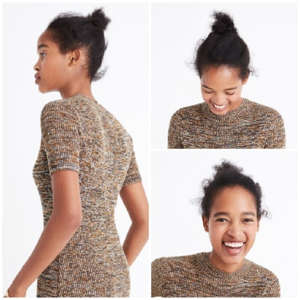 J. Crew (and its brand, Madewell) are being accused of sloppily styling a black model's hair. As you can see from the pic above, the model herself is gorgeous, and that's not up for debate, but what is up for debate is whether J. Crew didn't hire someone who knew how to style her hair.
Lots of people online seem to think the brand majorly messed up:
J. Crew….. girl…. y'all wrong. pic.twitter.com/M25MHbrb3L

– Daë Louise 💄💋 (@UnordinaryDae) November 9, 2017
*ABOUT TO GO AWF* @jcrew Why do you have these black models on here looking like they have been fighting for sunflower seeds and rain water? Are y'all wanting to become the new @Dove ? #JesusBeANonOffensiveAd#JesusBeAGoodHairstylist#JesusBeABetterChoice#dove#melaninmatterspic.twitter.com/OtWqlIHsPG

– YoungGordonParks (@DarcellBios) November 10, 2017
They didn't even try pic.twitter.com/UfYuVesiEz

– rosechocglam (@rosechocglam) November 9, 2017
So apparently that J.Crew model was supposed to have a "messy bun" look pic.twitter.com/P5hTcsfyZr

– Janet. (@_LetriceAllia) November 10, 2017
But some people defended J. Crew – writing that her hair looked cute and that the brand is known for the "bedhead" look.
It's such a shame that non-black girls can wear their hair any way they want and no one bats an eyelid; but a black girl has hair sticking out her ponytail and suddenly it's the end of the world

– Sharyu (@sidewalksrih) November 10, 2017
Not all but some. J Crew is actually known for models with tousled hair. Many of their models get that undone hair look. 🤷🏾 pic.twitter.com/0Sn8zA1T6v

– Erica H (@HazelGoddess) November 10, 2017
On Friday, J. Crew responded on Twitter. 
"J.Crew strives to represent every race, gender, and background," the brand wrote. "We sincerely apologize for the styling of this model and the offense that was caused. We assure you that we are taking steps to address it, and to prevent this from happening again."
J.Crew strives to represent every race, gender, and background. We sincerely apologize for the styling of this model and the offense that was caused. We assure you that we are taking steps to address it, and to prevent this from happening again.

– J.Crew (@jcrew) November 10, 2017
Related: 12 J.Crew Coats To Buy Right Now [Provided by Refinery29]




Related Video: How to Get That Engaged-Girl Glow with J. Crew Makeup Artist Troi Ollivierre [Provided by Brides]